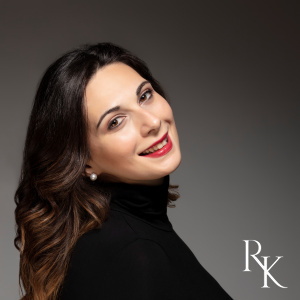 She graduated from Francesco Cilea Conservatory in Reggio di Calabria. Since 2017 she has been participating in the master classes of Raina Kabaivanska at New Bulgarian University, Chigiana Academy in Siena and Vecchi-Tonelli Music Institute in Modena. A laureate of Verdi Voices Competitions, As.Li.Co., "Spiros Argiris".

She has performed at Teatro Goldoni in Livorno, Teatro Verdi in Trieste, Teatro Comunale Luciano Pavarotti in Modena, Sofia Opera and Ballet, Teatro Cardoso in São Paulo, Teatro Francesco Cilea, Reggio Calabria, Teatro A. Ghirelli in Salerno and others.

Her repertoire includes: Violetta in "La Traviata" and Leonora in "Il Trovatore" by Verdi, "Turandot" by Puccini, Monica in "The Medium" by Menotti, Juliette in "Romeo et Juliette" by Gounod, "Norma" by Bellini, Hanna Glawari in "Die lustige Witwe" by Lehar etc.