MADAMA BUTTERFLY
Giacomo Puccini
04.09.2020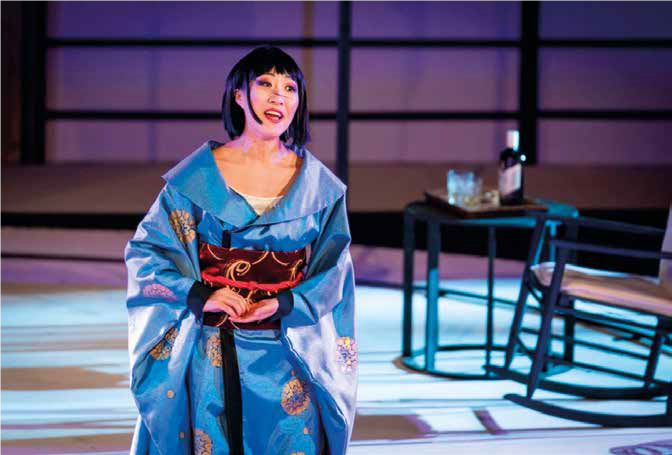 "Мadama Butterfly" is a very beautiful production. I am grateful to be a guest in such a beautiful city and above all in the ancient Roman theatre, which is a mysterious and magical stage creating a wonderful impression for the artists and the audience. The team of Plovdiv Opera, all people who worked for "Madama Butterfly" are very kind and always willing to help which made me feel welcome. Also, my fellow singers welcomed me warmly and we immediately started working very well together. I am grateful to everyone for this wonderful experience."

Vittoria Yeo

In September 2020 Vittoria Yeo, the remarkable soprano from the school of Raina Kabaivanska came out onto the stage of the Ancient Theatre in Plovdiv as Cio-Cio-San from "Madama Butterfly". The show was a part of the Opera Open Festival. Special guest of the event was Raina Kabaivanska who came to Bulgaria to mark the occasion of the XXth anniversary edition of her International Master Class at New Bulgarian University. Director – Assoc. Prof. Nina Naydenova, conductor – Nayden Todorov.
IL TROVATORE
Giuseppe Verdi
24.02.2019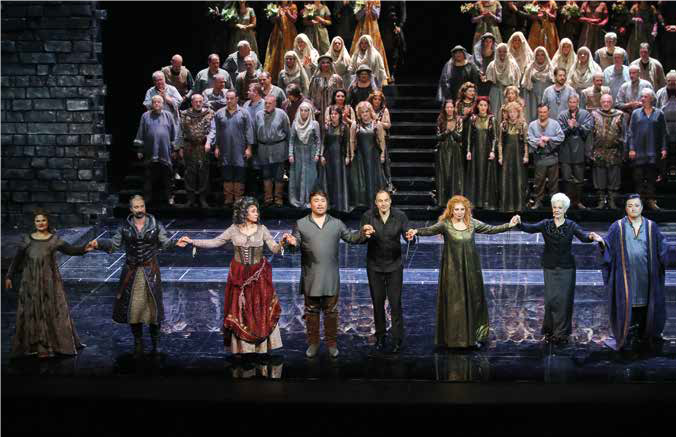 "The remarkable thing about Raina Kabaivanska School, established in Sofia, is that it provides a solid foundation for all young singers, students of one of the best teachers in opera singing. In September every year the Master Class unfolds into an opera performance on the grand stage. Determined and energetic, Raina Kabaivanska provokes fate by choosing such titles for Sofia Opera and Ballet, which are not easy for young singers, since they have to interpret characters which cause the heart rate of even established artists to flutter. … The huge audience filling the hall pays extremely careful attention throughout the performance, showing their joyful approval with ovations and warm applause for all participants."

Francesco Germinario
Journal L'Opera,
November 2017

In February 2019 in the premiere performance of the opera "Il Trovatore" by Verdi features Marily Santoro (Italy), Ana Victoria Pitts (Brazil), Davide Ryu, Carlo Seo (South Korea) and Kostadin Mechkov (Bulgaria). Directed by Filippo Tonon, conductor – Laurent Campellone.
DON PASQUALE
Gaetano Donizetti
12, 13.01.2019
26.10.2019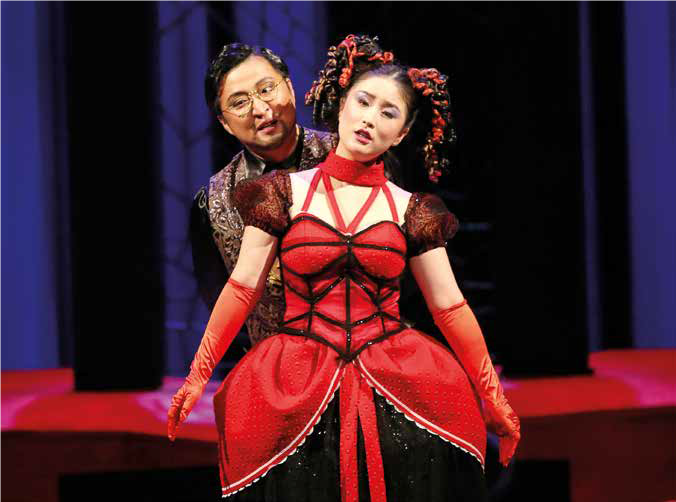 "Don Pasquale" is a true delight for lovers of music. The special participation of South Korean artists Carlo Seo and Eva Jeong - students from the master class of the Opera Prima Raina Kabaivanska, transformed the premiere into a
celebration."

Eliana Mitova,
www.blitz.bg, February 2019.

In January 2019 some of the youngest artists of Kabaivanska School performed their debuts in the opera "Don Pasquale" – Eva Jeong (South Korea) as Norina and Carlo Seo (South Korea) as Dr. Malatesta. The director of the production was Professor Svetosar Donev, conductor – George Dimitrov.
NORMA
Vincenzo Bellini
13, 14, 15.10.2017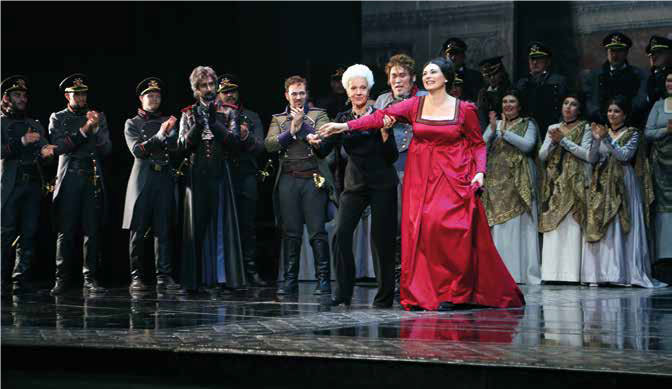 "Мarily Santoro, Davide Riu, Shin Je Bang, Elisa Barbero, Kostadin Mechkov, Strahinja Djokic, Daniela Nineva, Roxana Herrera and Manuel Rodríguez are the young artists who appeared in "Norma" project. They come from Italy, South Korea, Bulgaria, Serbia, Chile and Spain. It is important to mention all of their names – out of respect for their work and the magnificent performance, as a remarkable fact in the musical life of Sofia at the present time – just as in 2010 we
noted the participation of Maria Agresta in "La Bohème" and in 2012 of Veronica Simeoni in "Werther". Then rising stars, today these two singers from Kabaivanska School are part of the operatic elite, engaged for years ahead in the world's most important theatres. In the premiere performance of "Norma" featuring artists from Raina Kabaivanska School we saw brilliant soloists, spectacular and masterful directing, a focused conductor, enthusiastic choir and orchestra, and a producer with 360-degree coverage. The invisible association of these factors gives rise to inspiration in each individual participant, a personal pursuit of the highest achievement. The atmosphere is both intense and liberating. They are creating art. The audience isn't breathing, but absorbing. They understand that they are witnessing an extraordinary experience."

Petеr Barbalov
Slaveykov Square, October 2017

In October 2017 in three performances of the opera "Norma" at Sofia Opera and Ballet, Raina Kabaivanska presented the latest generation of her School. Director, scenography and costumes are the work of Hugo de Ana, conductor – Grigor Palikarov.
TURANDOT
Giacomo Puccini
09, 11, 13.12.2016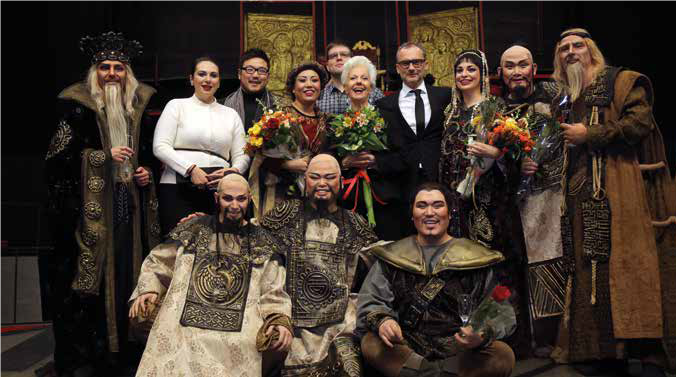 "Since last Friday, the new crop tended by Maestra Kabaivanska has been blossoming on the stage of Sofia Opera. 11 names make up her dream team for "Turandot"– the latest work of the genius Giacomo Puccini which according to Kabaivanska
marks the end of opera. Love is the trademark of Raina Kabaivanska School. In 2010 her students from her master class of the best Tosca from the second half of the 20th century presented "La Bohème" by Puccini in Sofia, and then at Teatro Comunale in Modena. In 2012 they took us down with them into the misery of young Werther by Jules Massenet. Now is the turn of "Turandot". Tonight is the second performance with Taesung Lee as Calaf, Marily Santoro as Turandot and Strahinja Djokic as Timur. On Tuesday, the first ensemble is once again on the stage. Come and listen to them. They all bear the seal of Kabaivanska."

Elena Krasteva
Slaveykov Square, December 2016

In December 2016 the School of Raina Kabaivanska presented three performances of the opera "Turandot", featuring Ana Petricevich (Croatia), Marily Santoro (Italy), Dimitar Arnaudov, Kostadin Mechkov (Bulgaria), Strahinja Djokic (Serbia), Davide Riu, Taesung Lee, Stefano Kim (South Korea), Beibei Li, Jiangmin Kong (China), Manuel Rodríguez (Spain). The director was Acad. Plamen Kartalov, conductor – Nicola Paszkowski.
WERTHER
Jules Massenet
7, 8, 9, 11.12.2012
21, 22.02.2013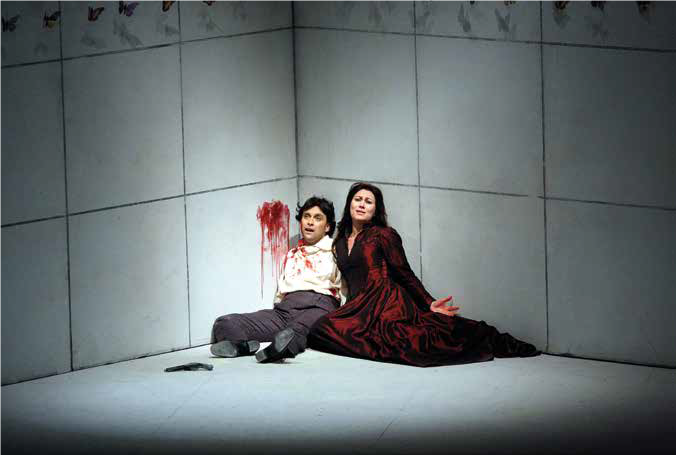 "Extraordinary success of "Werther" in Sofia Opera with the strong and convincing ensemble of students of Raina Kabaivanska, among which was Charlotte of Veronica Simeoni; conducted by – Giuseppe Sabbatini. … The production of Massenet's opera was the culmination of the work of the great Raina Kabaivanska, who created the ensemble of singers to conquer the stage of Sofia Opera with great pathos, arousing the
huge audience, who in their emotion seemed to hold their breath throughout the entire performance, only to explode after the last note in endless applause."

Francesco Germinario
Journal L'Opera, January 2013

In December 2012 and February 2013 were produced four performances of the opera "Werther" in partnership between New Bulgarian University, Sofia Opera and La Monet Theatre in Brussels, Belgium, with the participation of Veronica Simeoni, Aldo Caputo, Elisa Maffi (Italy) and Anton Markov (Bulgaria). Director Guy Jossen, conductor – Giuseppe Sabbatini.
LA BOHÈME
Giacomo Puccini
09, 10, 12, 14.12.2010, Sofia Opera and Ballet
10, 11.12.2011, Sofia Opera and Ballet
27, 29.01.2012, Teatro Comunale Luciano Pavarotti, Modena, Italia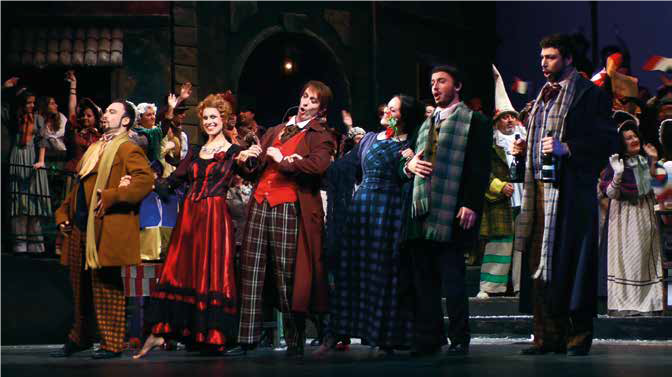 "Raina Kabaivanska's students, led by Maria Agresta, were responsible for the success of operation "Young Interpreters in "La Boheme" at Teatro Communale Luciano Pavarotti in Modena. After retiring from the stage, Raina Kabaivanska has devoted herself with a stubborn devotion to teaching. She founded her own patronage fund and undertook her projects together with Sofia Opera and New Bulgarian University. … The theatre was packed, the audience was no less exalted than the excited Raina who appeared on stage at the end of the show to embrace her young heirs, as a loving mother would."
Andrea Merli
Journal L'Opera, March 2012
The project began with a production of the opera "La Boheme" featuring Maria Agresta, Cristina Baggio, Marco Frusoni, Matteo Ferrara (Italy), Maria Radoeva, Kiril Sharbanov, Daniel Stefanov, Alexander Nossikov, Dorotea Doroteeva, Silvia Teneva, Vera Girginova, Vesselin Mihailov and Kostadin Mechkov (Bulgaria) in the lead roles.
After the brilliant performance by the scholars in six performances at Sofia Opera in 2010 and 2011, they also performed in January 2012 followed by two performances at Luciano Pavarotti Teatro Communale in Modena, Italy. The director of the performance was Boyko Bogdanov, restored by Vera Petrova, conductor – Aldo Sisillo.
