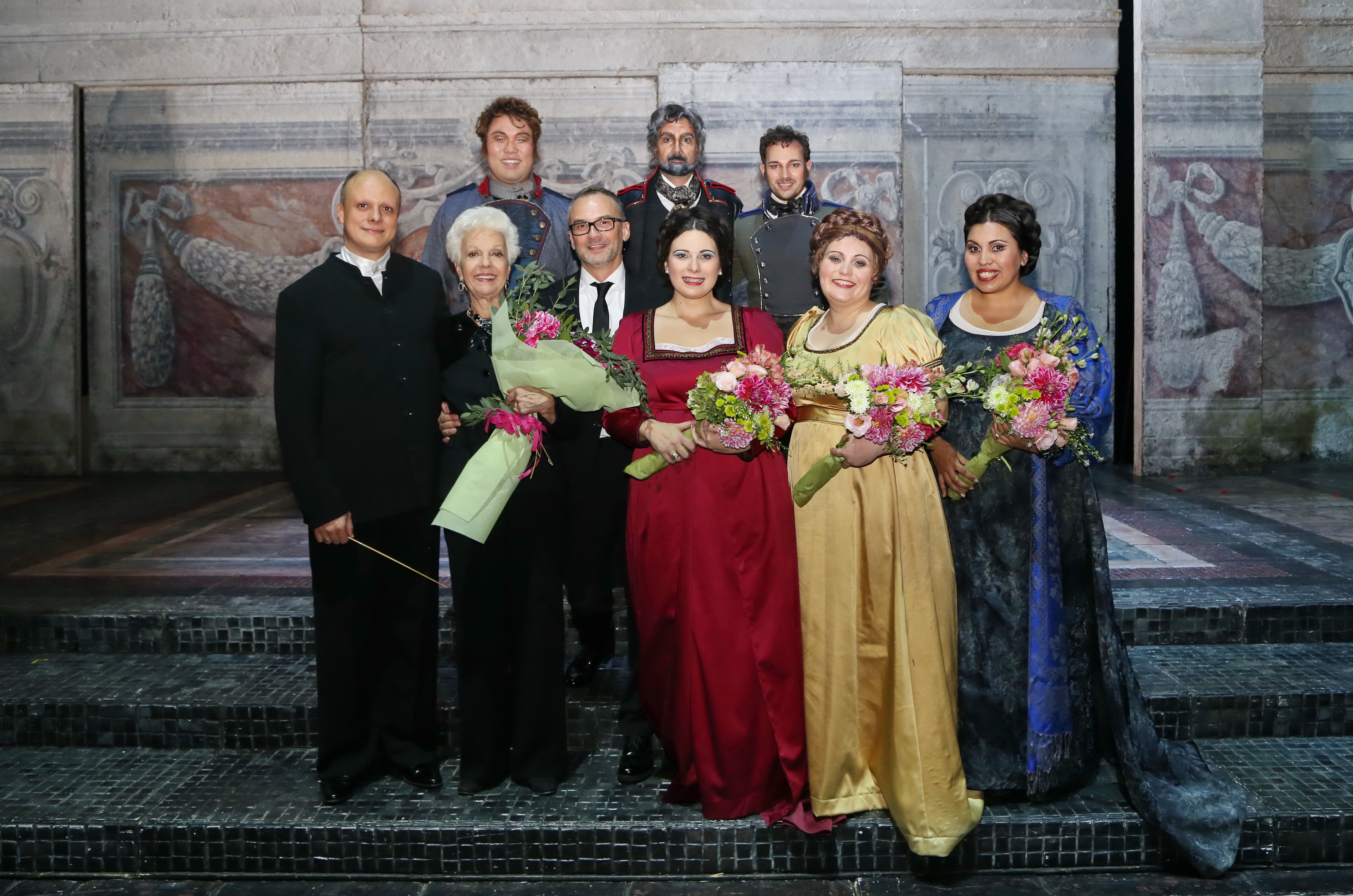 ph. Viktor Viktorov
All three performances of "Norma" by Bellini with the participation of artists from the Master Classes of Raina Kabaivanska at New Bulgarian University were great success

Raina Kabaivanska presented her talented students in three performances of "Norma" by Vincenzo Bellini on 13-th, 14-th and 15-th of October on the stage of Sofia Opera and Ballet House.
The production was a joint project of New Bulgarian University and Sofia Opera and Ballet. In the performances participated two casts of talented young opera singers - students and scholarship holders of Raina Kabaivanska Fund at New Bulgarian University. The international cast included opera singers from Italy, Bulgaria, South Korea, Chile and Spain. Famous Hugo de Ana was the director and author of the scenography and costumes and Maestro Grigor Palikarov was the conductor of the performances. In the role of Norma was Marily Santoro (Italy) and Radostina Nikolaeva - a soloist of Sofia Opera and Ballet. Elisa Barbero, Shin Je Bang, Younghun Ryu, Kostadin Mechkov, Strahinja Djokic, Manuel Rodriguez, Daniela Nineva and Roxana Herrera performed brilliantly the other roles in the performances.
Marily Santoro won the hearts of the audience with her convincing performance of the role of Norma - a difficult one for both vocal and artistic interpretation. The young soprano and her teacher - Raina Kabaivanska, received deserved applauses and the admiration of the audience.
The idea for preparation of an opera performance every year after the Master Classes is a continuation of Raina Kabaivanska's efforts not only to train young talents but also to support their promotion on the international opera stage.
Three similar projects were carried out so far. In 2016 "Turandot" was presented three times with great success in front of Bulgarian audience, after "La Boheme" and "Werther" (in 2010 and 2012) were realized with Raina Kabaivanska's students from Bulgaria and Italy and again with the support of NBU and Sofia Opera and Ballet House. Traditional partners and donors of Raina Kabaivanska Fund are Sofia Municipality, Fantastico and America for Bulgaria Foundation. Media partners of the events are Bulgarian National Television, Bulgarian News Agency and Bulgarian National Radio. Manager and producer of the Master Classes of Raina Kabaivanska and the opera performances in Bulgaria is George Tekev, PhD - Executive Director of New Bulgarian University.