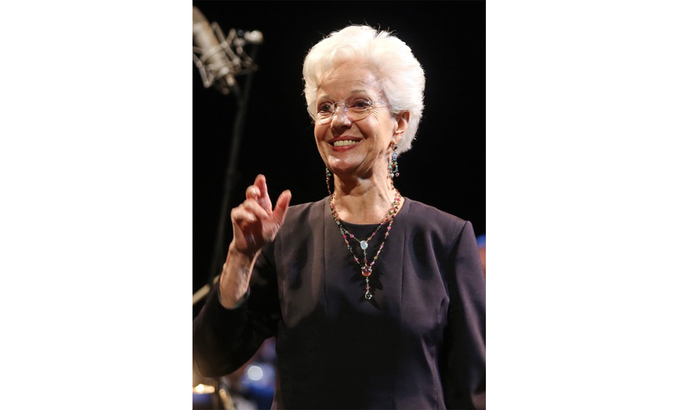 ph. Viiktor Viktorov
Raina Kabaivanska will arrive in Bulgaria to support the participation of the students from her master classes organized by New Bulgarian University in the premiere of "Il trovatore" by Giuseppe Verdi at Sofia Opera and Ballet Hause on 24th of February (4:00 p.m.).
Marily Santoro (soprano, Italy), Ana Victória Pitts (mezzosoprano, Brazil), Carlo Seo (baritone, South Korea), Davide Ryu (tenor, South Korea) and Kostadin Mechkov (bass, Bulgaria) are selected by Raina Kabaivanska for the main roles in the performance. The invitation to the young singers comes from the director of Sofia Opera and Ballet Acad. Plamen Kartalov.
Marily Santoro, Davide Ryu and Kostadin Mechkov are favorites of Bulgarian audience. They are already known from the main parts in "Turandot" (2016) and "Norma" (2017) - co-projects of New Bulgarian University and Sofia Opera and Ballet. Carlo Seo made his debut at Bulgarian opera stage a month ago as Doctor Malatesta in "Don Pasquale". For Ana Victória Pitts the role of Azucena in "Trubadur" will be the first performance in the home country of her teacher.
Raina Kabaivanska supports her students in different ways. One of them is through scholarships awarded by the charity fund of the opera actress at New Bulgarian University. It was established years ago with her own resources and subsequently expanded by donations from "America for Bulgaria" Foundation, Sofia Municipality and Fantastico. Another type of support is the project "Raina Kabaivanska presents her students on the international opera stage", under the auspices of New Bulgarian University. It resulted in the widely known performances "La bohème " (2010-2012), "Werther "(2012), "Turandot "(2016) and "Norma" (2017). Thanks to them the audience in Bulgaria was able to see at the beginning of their career singers from the School of Kabaivanska like Maria Agresta, Veronica Simeoni and Andrea Carè who are nowadays world stars. However the most important support of Raina Kabaivanska for her students is her personal presence in key moments of their professional development - as a figure of substantial significance in the opera world. Thus "Il trovatore" in Sofia will fit in well with two other "moments" when Raina Kabaivanska will be next to her students - Maria Agresta's debut as Anna Bolena by Donizetti at Teatro dell'Opera di Roma and the debut of Veronica Simeoni at Covent Garden as Preziosilla in "La forza del destino" by Verdi.
"Il trovatore" holds a special place in the extraordinary singing career of Raina Kabaivanska. On the 1st of May 1978 at Vienna Opera took place the incredible performance with the participation of Plácido Domingo, Fiorenza Cossotto, Piero Cappuccilli, José van Dam. The conductor was Herbert von Karajan. In 1986 when Austrian television broadcasted the recording great Maestro sent a letter to Kabaivanska: "Dear Raina, Austrian television broadcasted last night our "Il trovatore" at Vienna Opera. I am very excited and happy with its artistic quality and I'm fascinated like I was on the day of the performance. Your interpretation - both vocal and dramatic, will always be a model for artistic perfectionism. It is good to acknowledge that the true power of the action and the direction in opera is in their simplicity. I embrace you with all my heart, yours Herbert von Karajan".
Korean soprano Vittoria Yeo from Raina Kabaivanska School will be the next guest on the stage of Sofia Opera and Ballet House. Since 2016 she is a soloist of the opera theaters in Venice, Genoa, Parma, Rome, Florence etc. In 2015 ("Ernani") and 2017 ("Aida") she participated in Salzburg Opera Festival (conductor Riccardo Muti). In 2018 Yeo debuted at Arena di Verona as Liù in "Turandot". On April 25, 2019 she will perform in Sofia the soprano party in Requiem by Giuseppe Verdi.