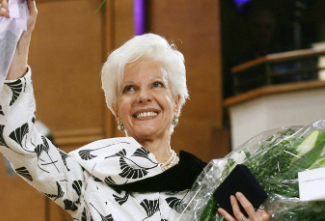 ph: NBU Archivio
The XV International Master Class of Raina Kabaivanska will take place in September (7-27), 2015 at NBU.
Audition of the applicants will take place on 7-th of September at Sofia Opera and Ballet House and will be conducted personally by Raina Kabaivanska.

Those who are interested to be included in the audition for the Master Class can register at:
www.rainakabaivanska.net/master_classes
Eligible for the Master Class are professional musicians or students in a Music Academy at the age up to 32 years. They should prepare five arias for the competitive audition and for working on during the Master Class.
Ten young opera singers selected from all applicants will have the opportunity to work with Raina Kabaivanska on improving their vocal skills and actor's interpretation as well as on preparation of new parts.
On 27-th of September the best graduates of the Master Class will participate in a Gala concert at Sofia Opera and Ballet House with its Orchestra conducted by Maestro Nayden Todorov - a concert with the special participation of Raina Kabaivanska.
At the end of the Gala concert Raina Kabaivanska will announce the new holders of scholarships disbursed by her Charitable Fund. Scholarships will be divided into three categories: for continuing training with the great opera actress – for the Master Classes at New Bulgarian University; for the Master Class at Academia Chigiana in Siena, Italy and special one-year scholarships for the Music Academy "Vecchi-Tonelli" in Modena, Italy.
In 2010 inspired by Raina Kabaivanska and under the auspices of New Bulgarian University (NBU) in Sofia started a project "Raina Kabaivanska presents her students on the world opera stage". Its beginning was the opera "La Boheme" with the Bulgarian and Italian students of Raina Kabaivanska in the leading parts - 6 times on the stage of Sofia Opera and Ballet House in 2010 and 2011. In January 2012 the opera "La Boheme" was twice performed on the stage of Teatro Comunale "Luciano Pavarotti" in Modena, Italy. In December 2012 was prepared and presented a new opera - "Werther" of Jules Massenet in partnership between New Bulgarian University, Sofia Opera and Ballet House and La Monnaie Royal Opera House – Brussels, Belgium.