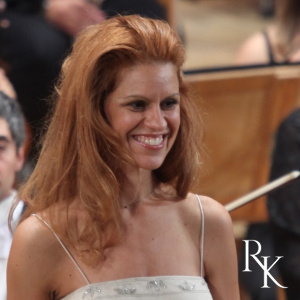 She graduated pedagogical psychology from Pollini Conservatory in Padua. Since 2009 she has been studying with Raina Kabaivanska at Vecchi-Tonelli Music Institute in Modena and in her master classes at New Bulgarian University. Laureate of many competitions, including: As.Li.Co., Toti dal Monte, Iris Adami Corradetti, Mario Del Monaco, Viñas (Barcelona), Armel (Hungary) and others.

She has appeared in Teatro La Fenice in Venice, Teatro Massimo Bellini in Catania, Teatro dell'Opera di Roma, the Philharmonic Theatre of Verona, Teatro Reggio in Parma, Teatro San Carlo in Naples, opera theatres in Bratislava, Sofia, Valletta, Philadelphia etc.

Her repertoire includes: Donna Elvira in "Don Giovanni" and Vitellia in Mozart's "La clemenza di Tito", Hanna Glawari in Lehar's "Die lustige Witwe", Manon Lescaut in Puccini's "Manon Lescaut", Elizabeta in Donizetti's "Mary Stuart".