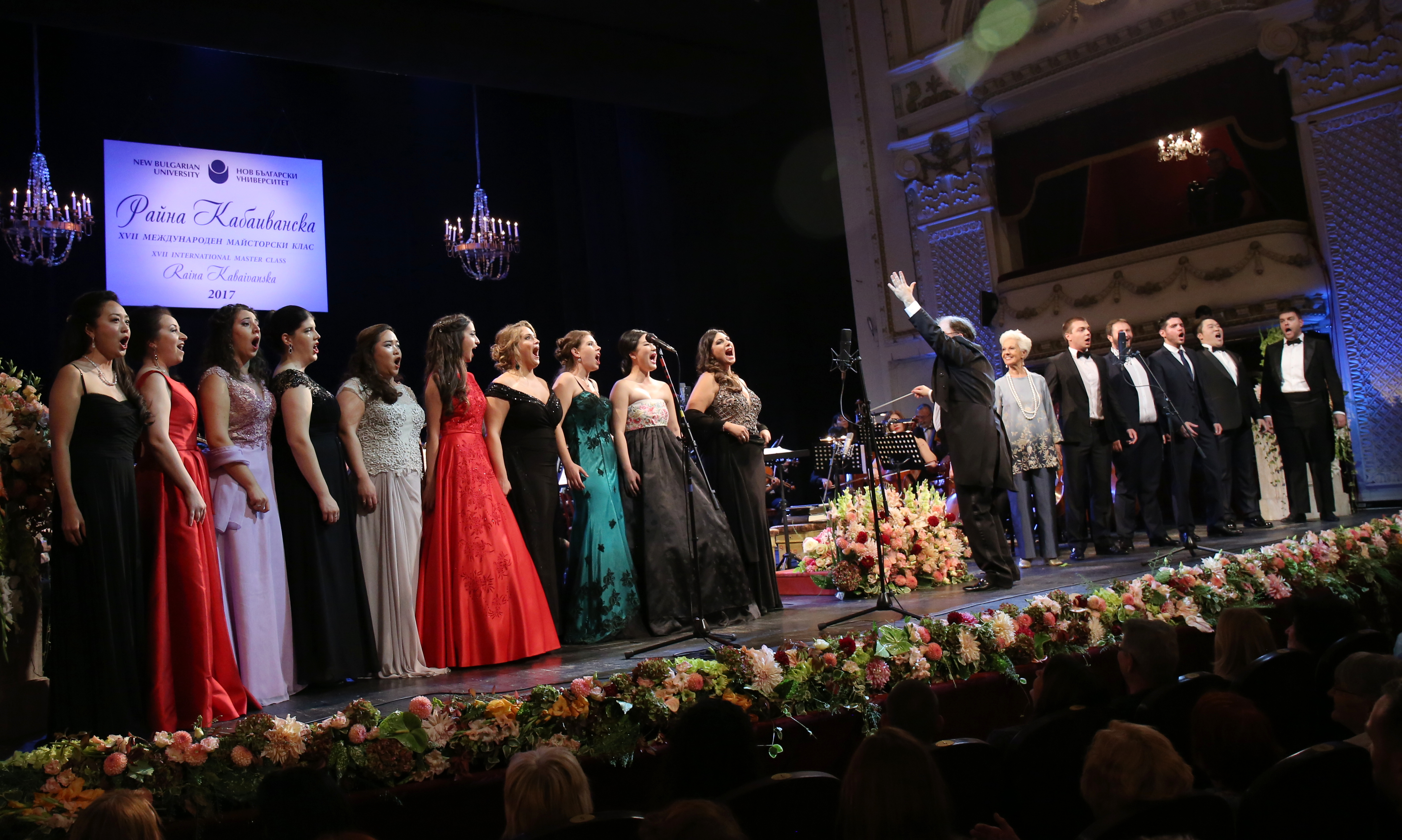 ph. Krum Stoev
The XVII International Master Class of Raina Kabaivanska, organized by New Bulgarian University, ended with Gala concert at Sofia Opera and Ballet on 24th of September. Twelve artists from Bulgaria, Venezuela, Greece, Italy, Korea, Lithuania and Serbia performed arias from Mozart, Rossini, Donizetti, Bellini, Verdi, Ponchielli, Boito, Massenet, Puccini and Giordano to the accompaniment of the orchestra of Sofia Opera and Ballet conducted by Nayden Todorov.
Raina Kabaivanska announced the scholarship holders of her Fund at NBU. The nineteen-year-old Bulgarian soprano Alexandrina Mihaylova was awarded the scholarship for one-year training at O.Vecchi - A.Tonelli Institute in Modena. Marily Santoro (Italy), Yonghyun Ryu (Korea) and Strahinja Djokic (Serbia) received scholarships for training and also the central roles in "Norma" – a joint production of New Bulgarian University and Sofia Opera and Ballet to be presented on 13-th, 14-th and 15-th of October. Reinoldo Droz (Venezuela) and Maritina Tampakopoulos (Greece) ere the new scholarship holders of the Fund. The scholarships for young opera singers are provided by Raina Kabaivanska Fund supported by Sofia Municipality, America for Bulgaria Foundation, Fantastico, Karoll Capital Management, Mr. Assen Vassilev and friends.
Raina Kabaivanska expressed her gratitude to New Bulgarian University (NBU) and George Tekev, Ph.D - Executive Director of NBU, as well as to His Excellency Stefano Baldi – the Ambassador of Italy in Bulgaria, Mrs. Yordanka Fandakova – Mayor of Sofia, Mrs. Nancy Schiller - President of America for Bulgaria Foundation, Mr. Vladimir Nikolov - Vice President of Fantastico, Mr. Asen Vassilev - President of Everbread, Mr. Stanimir Karolev - Chairman of Karoll Capital Management plc for their commitment to her noble cause – to discover and help young opera talents from Bulgaria and the world.
In his acknowledgement to Raina Kabaivanska the Rector of NBU - Prof. Plamen Bochkov pointed out on behalf of the Board of Trustees and the Academic Council of NBU that New Bulgarian University is proud to host the School of Kabaivanska.
Academician Plamen Kartalov congratulated Raina Kabaivanska on behalf of Sofia Opera and Ballet and invited the audience to enjoy the upcoming performances of "Norma" with artists from the School of Kabaivanska.