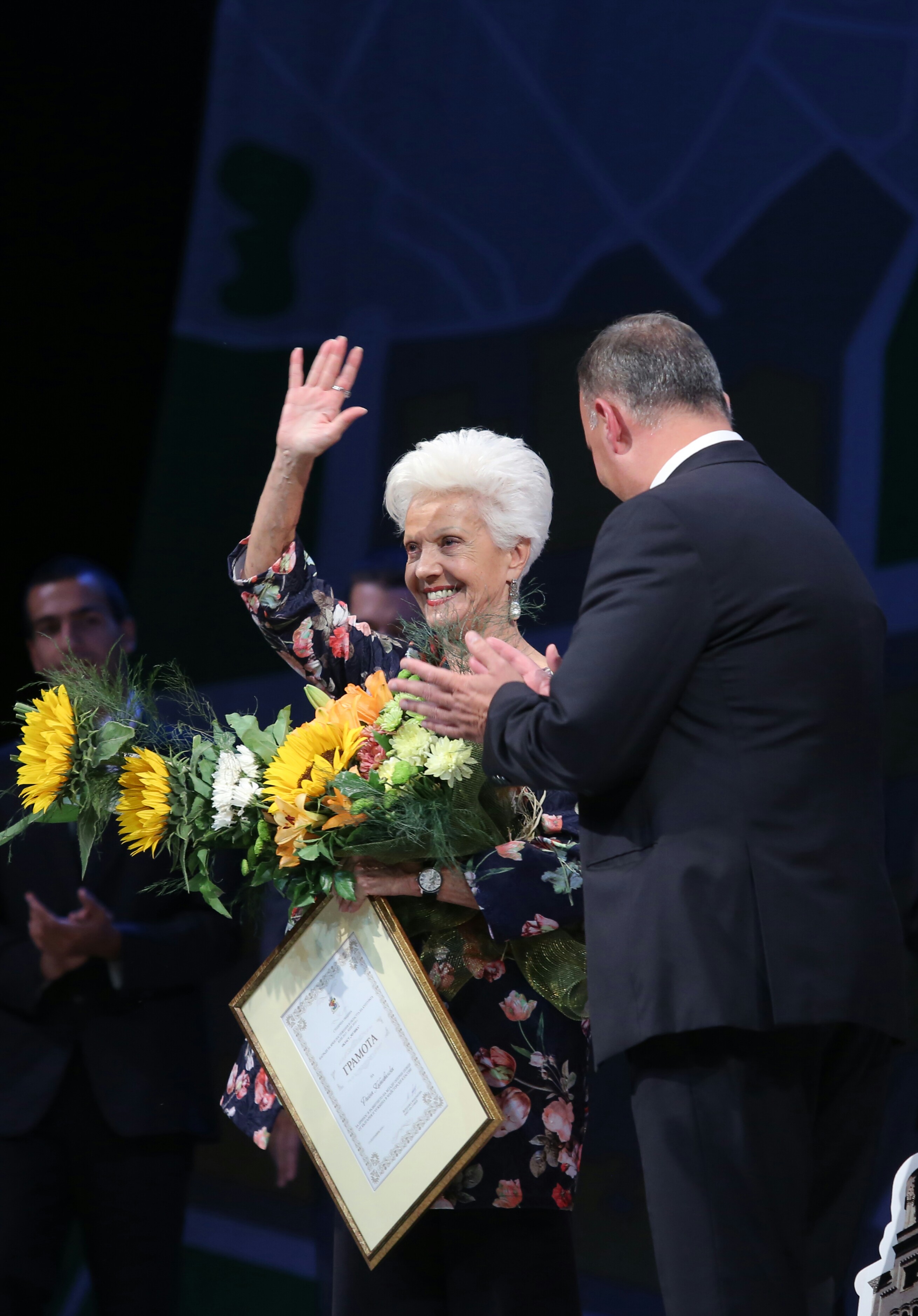 On 17-th of September 2016 at Sofia Opera and Ballet House Raina Kabaivanska was presented with Sofia Award for outstanding cultural achievements in the sphere of Music. The prize was awarded for her contribution to the professional development of young opera singers from Bulgaria and abroad in the Master Classes of Kabaivanska at New Bulgarian University.

Raina Kabaivanska was met at National Opera and Ballet House by the Mayor of Sofia – Mrs. Yordanka Fandukova. All in the Hall stood up at the appearance of the Opera Prima on the stage. She expressed her gratitude to New Bulgarian University and to the Producer of the Master Classes – Mr. George Tekev, PhD as well as to the entire team working with her. Mrs. Kabaivanska also expressed her appreciation to the Mayor of Sofia – Mrs. Yordanka Fandukova, encouraging her for the work done and for the visible positive changes in the city that occurred through the years. "We, women, have an extra speed"- shared Kabaivanska and the audience burst into applause. Mrs. Kabaivanska expressed her sincere gratitude to the National Palace of Culture for her nomination. National Palace of Culture nominated Raina Kabaivanska for her contribution to the professional development of young opera singers from Bulgaria and abroad through her Master Classes in Sofia. In the course of the last 16 years in the Master Classes at New Bulgarian University Raina Kabaivanska discovers, refines and presents young talented actors in gala concerts each September – time for opening of the music season in Sofia. Thanks to her young talents from all over the world present opera performances which turn our capital into a world stage of the opera art.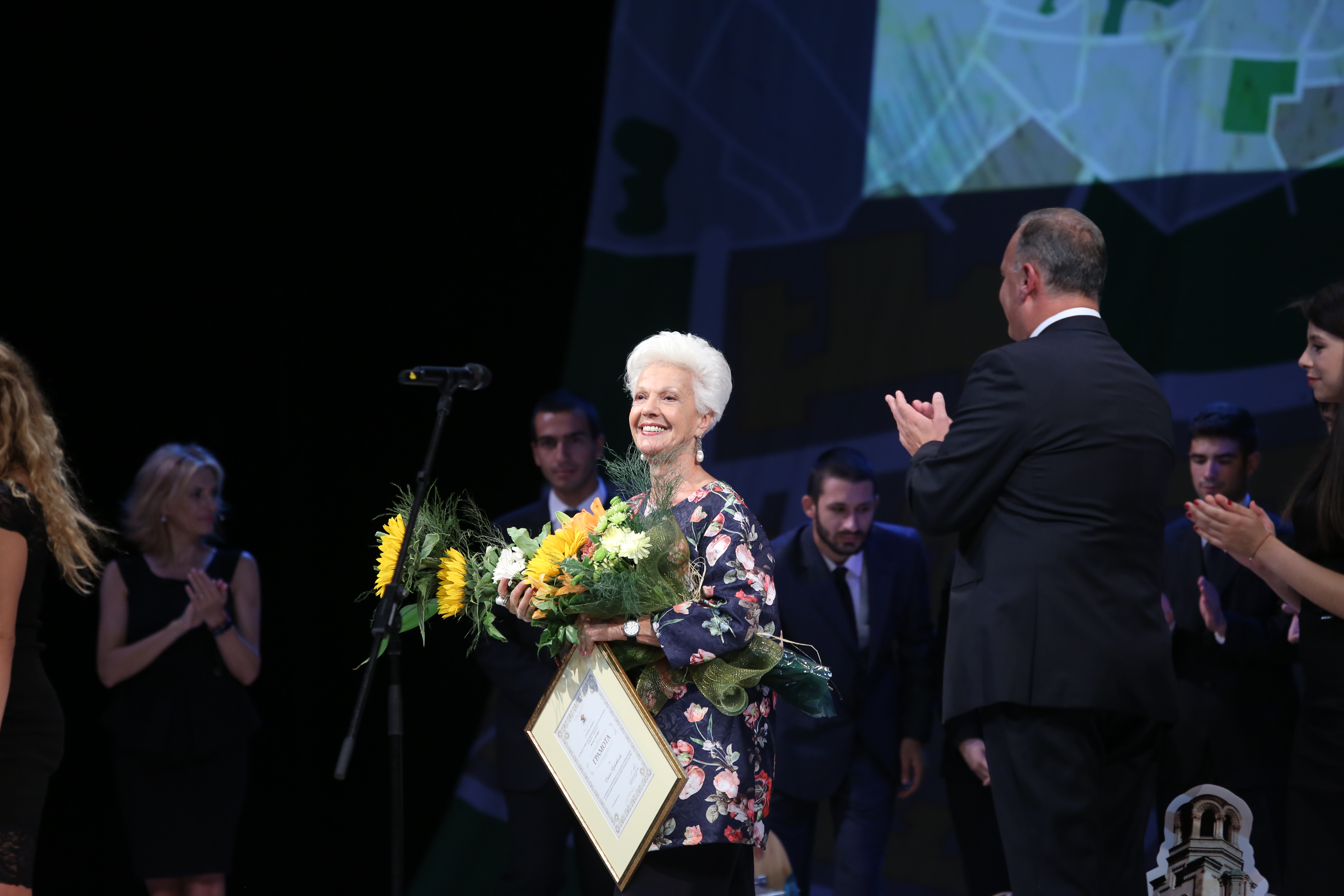 Raina Kabaivanska is one of the most distinguished Bulgarian opera actresses of our time. The beginning of her brilliant career was a debut in Milan's La Scala in 1961 and the continuation - the stages of all major opera theatres worldwide: Covent Garden in London, Paris Opera, Teatro Real in Madrid, Metropolitan Opera and Carnegie Hall in New York, Teatro Colón in Buenos Aires, Staatsoper in Hamburg, Deutsche Oper in Berlin, Sofia Opera and Ballet House, Bolshoi Theatre in Moscow, Tokyo Opera, Salzburg Festival and many others. Partners of Raina Kabaivanska on the stage are great tenors of several generations: Franco Corelli, Mario del Monaco, Jon Wickers, Carlo Bergonzi, Alfredo Kraus, Plácido Domingo, José Carreras, Luciano Pavarotti. During her 55-year career she has performed unforgettable roles in a remarkably vast repertoire from the XVIII-th to the XX-th century incl. operas by Gluck, Spontini, Rossini, Donizetti, Bellini, Berlioz, Verdi, Wagner, Gounod, Chaykovski, Massenet, Catalani, Janacek, Leoncavallo, Puccini, Richard Strauss, Cilea, Giordano, Lehar, Zandonai, Poulenc, Weill, Dallapiccola, Britten, Nino Rota, as well as chamber music by Massenet, Chausson, Ravel, Poulenc and Shostakovich. Emblematic and unique of their kind are her interpretations of the great dramatic roles of Adriana Lecouvreur, Francesca da Rimini and Manon Lescaut, as well as Tosca and Madama Butterfly performed more than 400 times.

She is the recipient of numerous awards: Bellini – 1965, Viotti d`Oro – 1970, Puccini – 1978, Illica – 1979, Monteverdi – 1980, the Medici Academy award, Lorenzo il Magnifico – 1990, the Grand Prix "A life devoted to music" – Venice 2000 and Doctor Honoris Causa of New Bulgarian University for her contribution to the world music culture. For her exceptional contribution in the field of the arts and the development of democracy in Bulgaria she was awarded the Stara Planina Order. She was also made Knight Grand Cross of the Order of Merit of the Italian Republic for civil valour and outstanding contribution to the arts. In 2011 she was awarded the highest grade of Commandeur of the Order of Arts and Letters of the French Republic. In 2013 Raina Kabaivanska was awarded a Lifetime Achievement Oscar for Opera.
Through Master Classes organized at New Bulgarian University and opera performances in Sofia conducted for more than 16 years Raina Kabaivanska not only discovers talents and works on their refining and professional development, but also helps their introduction on the international opera stage. Kabaivanska's Master Classes are an interactive way of training, giving young singers an extraordinary possibility to find their way to the world opera theatres.
The noble cause of Raina Kabaivanska devoted to the professional development of young opera singers proves her as an actress and teacher by vocation in a broad sense and makes evident again her incredible talent, tremendous generosity and love for young opera singers.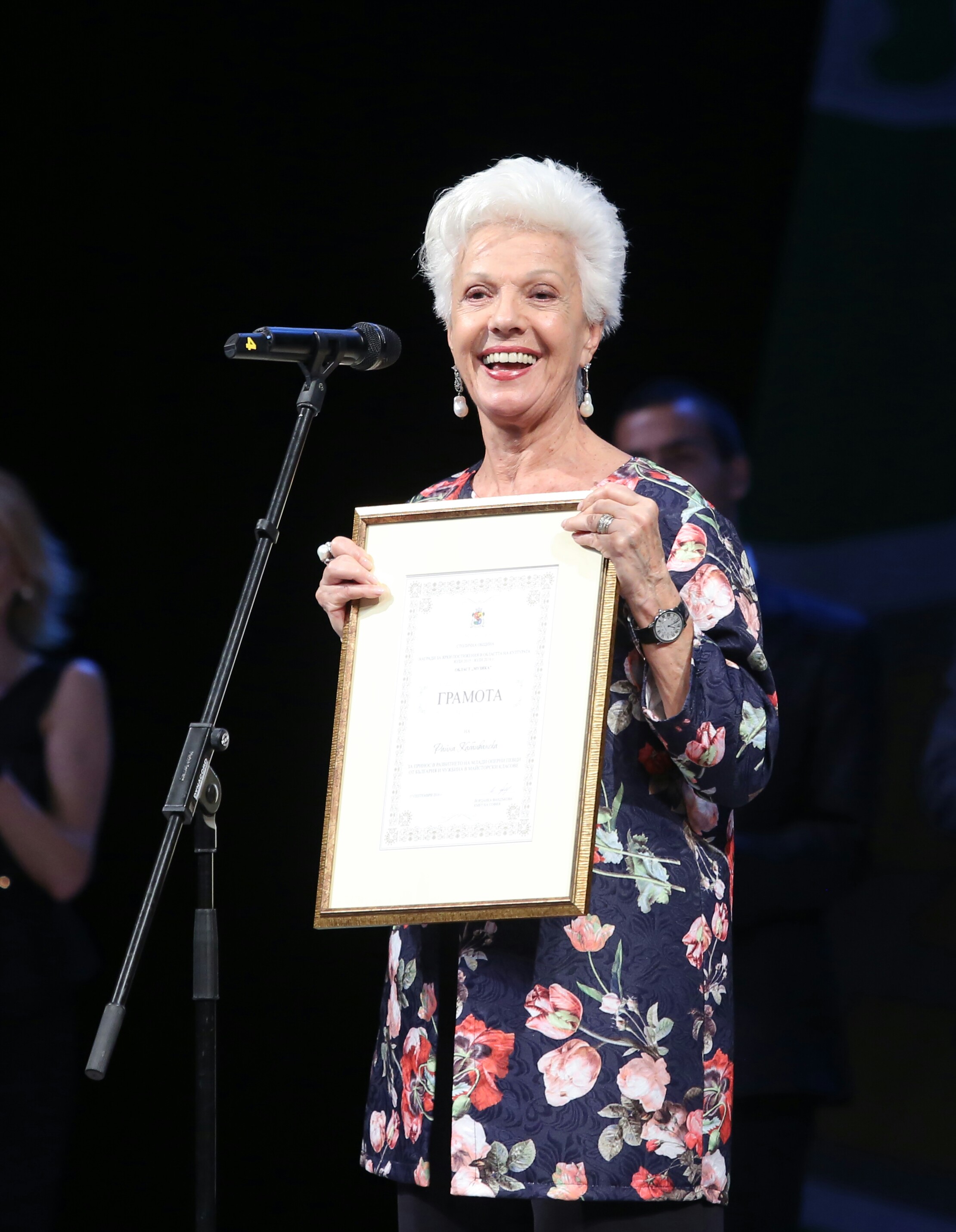 Gala concerts at the end of each Master Class in Sofia are included in the music calendar of the capital as remarkable music events. Significant for the capital was the Jubilee Charity Gala Concert "Raina Kabaivanska presents the Stars of the Opera" organized by New Bulgarian University in December 2014 in honour of the 80-th anniversary of the great opera actress. It gathered on the stage of Hall No. 1 of the National Palace of Culture 12 of the most famous students and scholarship holders of Raina Kabaivanska from all over the world.
In 2002 Raina Kabaivanska set up a Fund at New Bulgarian University for national and international scholarships in support of young opera singers. Thus, in the last 16 years was launched the School of Kabaivanska which gave impetus to opera actors of different nationalities. Their distinguished achievements are already recognized and they successfully perform in the most prestigious opera theatres and world festivals. Scholarship holders of Raina Kabaivanska Fund are over 70 young talents who continued their training and were presented by Raina Kabaivanska at professional opera stage.

Through producing of opera performances as a result of training in Master Classes Raina Kabaivanska reveals to the young opera singers the link and the professional path from music education to the big stage. In 2010 in Sofia, suggested by Raina Kabaivanska and under the auspices of New Bulgarian University, was launched a project entitled "Raina Kabaivanska presents her students on the international opera stage". Brilliant performance of the opera "La Bohème" at Sofia Opera and Ballet House with Raina Kabaivanska's students from Bulgaria and Italy in the leading roles was followed by two performances on the stage of Teatro Comunale "Luciano Pavarotti" in Modena, Italy. In December 2012 New Bulgarian University produced a second opera performance - "Werther" by Jules Massenet, in partnership with Sofia Opera and Ballet House and Théâtre Royal de la Monnaie in Brussels, Belgium. This year NBU prepares the third project of the same type - "Turandot" by Puccini.- Leading roles will be again entirely assigned to participants in the Master Classes of Raina Kabaivanska. "Turandot" by Giacomo Puccini is a co-project of NBU and Sofia Opera and Ballet House and will take place three times in December 2016. This opera performance will be a new chance for young opera actors from Bulgaria and abroad.
ph. Krum Stoev