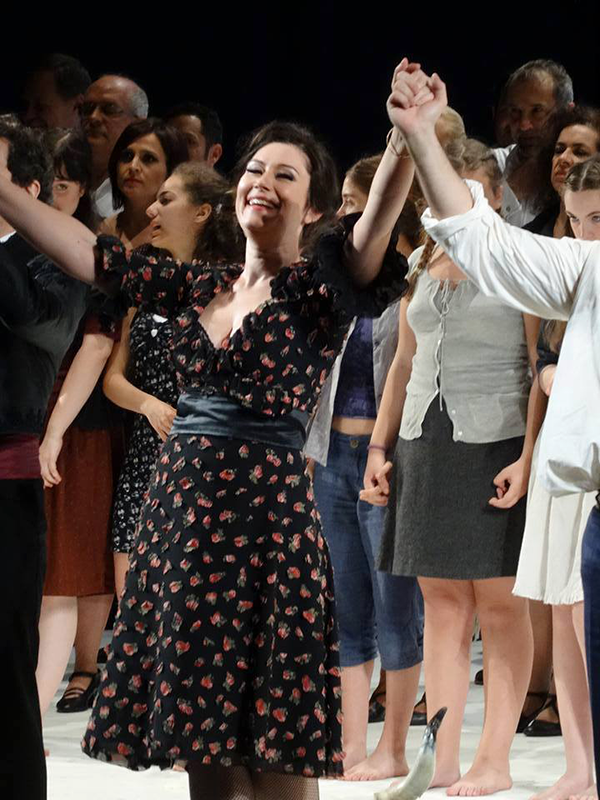 Foto: Maria Gabriella Sicchiero

On June 30 Veronica Simeoni participated in the opera Carmen by Bizet at Teatro Regio in Turin. Veronica Simeoni is a young singer and actress from the School of Kabaivanska – with a soft timbre, deep-toned range and specific distinctiveness for interpretation of opera characters. V. Simeoni presented brilliantly the role of Carmen in one of the most prestigious opera theaters in Italy. Conductor of the opera production was Asher Fisch and Veronica Simeoni's partners on the stage were Roberto Aronica as Don José and Mariangela Sicilia in the role of Micaëla.
The stage of Teatro Regio in Turin was the only one that brought together both historical divas of Italian bel canto - Maria Callas and Raina Kabaivanska. In 1973 the renovated theater was opened with the opera I Vespri siciliani by Giuseppe Verdi – then Callas made her debut as a director and Kabaivanska was in the role of Duchessa Elena.

In July 2015 Kabaivanska's name becomes again emblematic for Teatro Regio in Turin - two of the greatest stars from the School of Kabaivanska participated together in Norma by Vincenzo Bellini: Veronica Simeoni (Adalgisa) and Maria Agresta (Norma).

Veronica Simeoni participates in the Master Classes of Raina Kabaivanska at New Bulgarian University and in 2004 becomes a scholarship holder of the Charity Fund of the great Bulgarian opera actress. Simeoni started her vocal and artistic refinement under the guidance of Raina Kabaivanska in Verona and continued in Academia Musicale Chigiana in Siena and Vecchi-Tonelli Music Institute in Modena